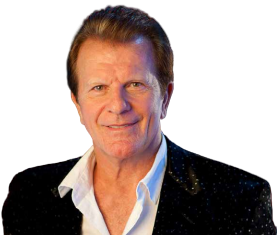 Lifestyle's founder and principal is Giancarlo Salvestrin aka Gene Pierson founded Lifestyle Entertainment in the early 90's. He is the sole owner and curator of the ever expanding catalogue.
Gene commenced his involvement in the music industry as a performer and recording artist for various labels including Phillips, Festival and EMI records in the 1960's, and later joining the Channel Nine network to start his own label Living Sound/Laser Records which was distributed by RCA records.
Gene's passion for music and keen ear for talent led him to launch AC/DC at their first ever performance in 1974. Working with Michael Browning founder of Deluxe Records he helped to broker and a license sale for Deluxe Records rights in INXS with RCA records
Gene's production credits are numerous and include producing Australia's first all Girl Group "Peaches" and their #1 single Substitute. The track was also covered by the South African acapella group Ladysmith Black Mambazo after their very successful Paul Simon tour.
Gene produced two hit singles for singer Melissa Tkautz from the TV series E Street, released on his Laser Music label through Polygram. He had the single "Read My Lips" written for her by Roy Nicholson which became an Australian Recording Industry Association's dance hit, reaching No. 1 on the ARIA singles charts, selling 800,000 copies. The follow-up single, "Sexy (Is The Word)", also written by Nicholson reached No. 3 on the Australian charts.
Gene continued recording a variety of genres into 2019, deliberately setting out to create recordings that were not of a given time or era. This imbues the Lifestyle Entertainment catalogue with longevity and wide range of potential for sync licencing.
Today the catalogue continues to grow and expand opening new markets through strategic partnerships with leading music partnerships with companies like The Orchard, SonyMusic, ORDIOR, Symphonic and DashGo to name a few.
Lifestyle Music's physical CD catalogue has been distributed to traditional music outlets in partnership with Sony Music Australia since 2000. The labels Rights Management partner ORDIOR looks after the continued development and exploitation of the catalogue.
For more information on Lifestyle Entertainment please email support@indigmusic.com
Catalogue Brochure
Catalogue Brochure can be downloaded here. Click the 'Download Brochure' link below: